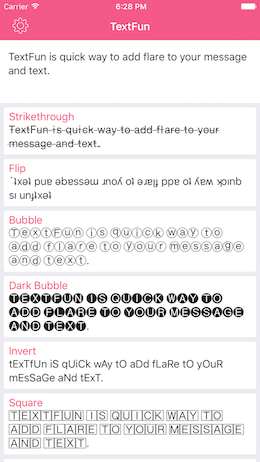 Create Fun Message with Text Effect
Type the text and choose the desired text effect: Bracket, Bubble, Dark Bubble, Flip, Invert, Underline, Square, Dark Square, Strikethrough, Lowercase, Uppercase, Capitalize Word, Capitalize Sentence, Space to Dash, Space to Underscore, Escape HTML, Unescape HTML, Reverse, URL Encode or URL Decode.
Easy Copy and Paste
Tap on a text effect to copy to clipboard. Paste the fun text from the clipboard to share it on Instagram, Reddit, Twitter and other apps.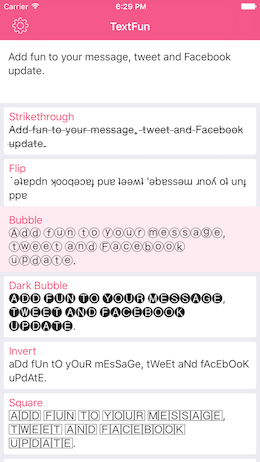 Frequently Asked Questions
How do I hide the keyboard?

Simply tap the "Done" button on left corner of keyboard toolbar to hide the keyboard.
What are the limitations?

TextFun uses the standard character set to achieve some of its effects. As an example using the Flip effect, when you enter a character "e", the app will replace it with the character "ǝ". This will work mostly for characters in the English language, as the standard character set does not contain all flipped equivalent to all characters.